The second largest city in Rajasthan, Jodhpur is every traveller's delight offering a glimpse of the state's rich cultural heritage and the legacy left by Marwar rulers. Founded by Rao Jodha of the Rathore clan in 1459 AD, this city has many captivating forts, palaces, lakes, and other architectural wonders to explore. A highlight of Jodhpur is its houses, built in vivid shades of blue, which paint a magical picture on the canvas of Thar Desert – something you would not want to miss. Consider yourself spoilt for things to do in Jodhpur when it comes to the Blue City, so to make it easier, here is a list of popular attractions that must be a part of your Jodhpur itinerary.
Top Place To Visit In Jodhpur:
| | |
| --- | --- |
| Mehrangarh Fort | Jaswant Thada |
| Umaid Bhawan Palace | Balsamand Lake |
| Kailana Lake | Machiya Safari Park |
| Rao Jodha Desert Rock Park | Chamunda Mata Temple |
| Jodhpur Government Museum | Bishnoi Village |
1.MEHRANGARH FORT
Rising perpendicular and impregnable from a hill which is 125 metres above Jodhpur's skyline is the Mehrangarh Fort. This historic fort is one of the most famous in India and is packed with history and legends. Mehrangarh Fort still bears the imprints of cannonball attacks courtesy the armies of Jaipur on its second gate. Chiselled and sturdy, the fort is known for its exquisite latticed windows, carved panels, intricately decorated windows and walls of Moti Mahal, Phool Mahal and Sheesh Mahal.
2. Jaswant Thada
Another brilliant example of India's architectural wonders, Jaswant Thada sits beside a lake just a little away from the Mehrangarh Fort. This white marble monument, built in the 19th century, commemorates the memory of Maharaja Jaswant Singh II who once ruled the city. You must visit this place in Jodhpur for its enchanting beauty, peaceful surroundings, scenic vistas, and for its extensive collection of paintings and portraits of Jodhpur rulers.
3. Umaid Bhawan Palace
Umaid Bhawan Palace, located in Jodhpur, Rajasthan, India, is one of the world's largest private residences. A part of the palace is managed by Taj Hotels. It is named after Maharaja Umaid Singh, grandfather of the present owner, Gaj Singh. The palace has 347 rooms and is the principal residence of the former Jodhpur royal family. A part of the palace is a museum.
The groundbreaking for the foundations of the building was carried out on 18 November 1929 by Maharaja Umaid Singh and the construction work was completed in 1943.
4. Balsamand Lake
Situated on the Jodhpur-Mandore Road, Balsamand Lake is yet another popular attraction in the city. Built in 1159 AD to serve as a water reservoir, this artificial lake is visited by tourists and locals alike for its lush green surroundings and charming natural beauty, which makes a perfect setting for picnics. If you are lucky, you might even spot a peacock here!
5. Kailana Lake
Located 8 km to the west of Jodhpur, the Kaylana Lake is a massive manmade lake, covering a surface of 84 square km. Constructed in 1872 by Pratap Singh, it serves as the primary resource for drinking water for the citizens of Jodhpur and other neighbouring settlements. A peaceful location, this lake is a must visit for most travellers who are road tripping between Jaisalmer and Jodhpur. It also serves as an excellent viewpoint for sunsets in Jodhpur.
6. Machiya Safari Park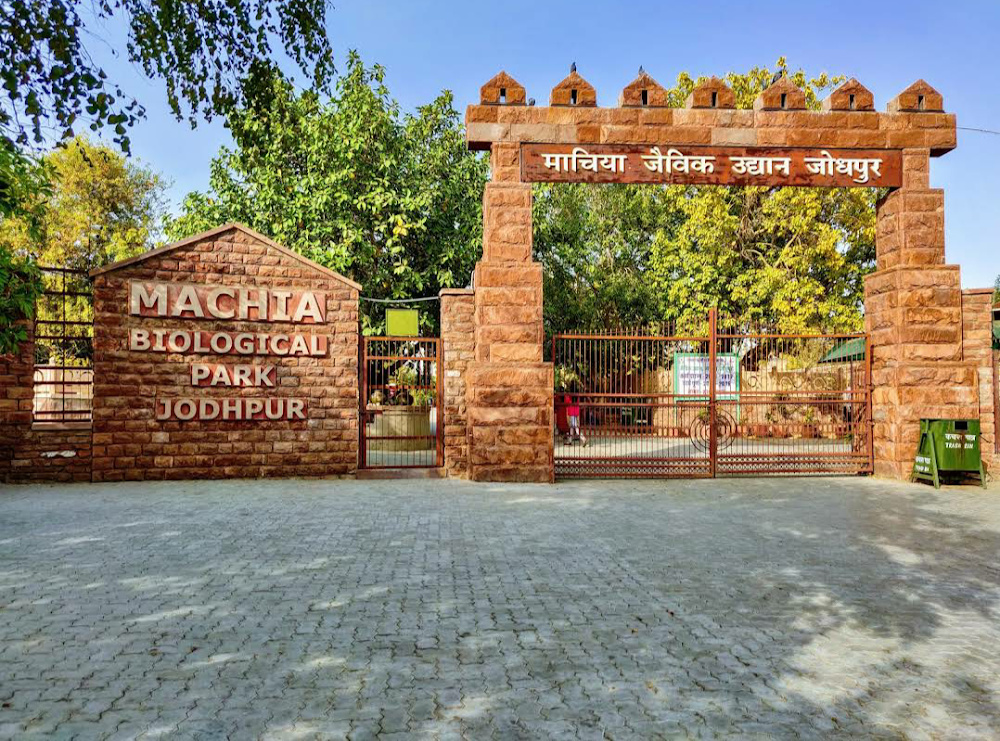 Machia Biological Park is an essential part of the agenda for nature lovers travelling to Jodhpur. Located about 8.5 km from the city, this biological wonderland is a part of the vast Machia forest block, situated close to the Kaylana Lake. It is a host to varied species of flora and fauna as well as a nature interpretation centre and the Machia Fort. Along with the enclosures for the animals, one can also find a birdwatching point, proof of the site's
7. Rao Jodha Desert Rock Park
Rao Jodha Desert Rock Park was created in 2006 to try and restore the natural ecology of a large, rocky wasteland next to Mehrangarh Fort in Jodhpur.
The Park extends across 70 hectares – about 170 acres – of rocky land surrounding the fort. You can enter the Park from the Visitors Centre 800 metres from the main Fort Gate. You can also walk across the Park starting closer to the Fort or from several other points of entry.
8. Chamunda Mata Temple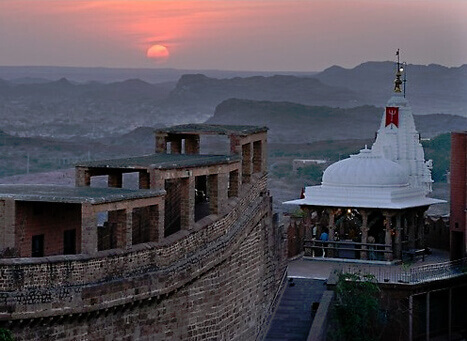 Located inside Mehrangarh Fort, Chamunda Mata temple was built by Rao Jodha who was also the founder of Jodhpur. Built for protection against a curse given by an old sage, this temple is much revered by the people of the Rajasthan and houses the chief deity of Rajputs.
9. Jodhpur Government Museum
The Government Museum of Jodhpur is yet another great place to discover the glorious past of Jodhpur city. Situated in the heart of Umaid Garden, the museum showcases an extensive collection of miniature paintings and portraits of rulers, textiles, weapons, and local art and crafts along with the manuscripts and images of the Jain Tirthankaras and other relics.
10. Bishnoi Village
If you have some time after exploring the best in the city, the Bishnoi Village close by is an ideal spot to unwind. You can indulge in a variety of cultural activities at this small village, including camel treks, desert excursions, arts and handicrafts and more. At Guda, you can set out on a safari to discover the exotic wildlife and nature of the region. Antelope, black buck and Demoiselle crane can be spotted here, besides thousands of migratory birds
Also Read This Article
Bishnoi Village Safari jodhpur charges
Jodhpur To Bishnoi Village Distance